Ever thought you have lost some really important data? More so, have you ever genuinely lost data due to circumstances you had not taken to account? Whatever the reason, backing up your data is of utmost importance for every computer user.
An Effective Data Backup Strategy
An effective backup strategy should not take place occasionally. It is part and parcel of your preventive maintenance work and should be taken seriously. By backing up your data, it means you are being proactive about the security of your data. In the unfortunate circumstance that disaster strikes, you are well assured that your data is safe.
Even after getting computer repair services, data recovery is possible. If you are interested in getting computer repair services and getting your data back, our agents in Woodbridge, VA provide impeccable professional repair services.
Data Backup During Computer Repair
In layman's terms, a data backup is an exact copy of your data. It is usually stored in one or multiple locations other than the primary one. This ensures you have another copy in case the original data gets corrupted, lost, stolen, erased, or destroyed.
Additionally, you can also restore your whole system to a previous version or state using a backup system. For this reason, experts will do a full system backup before attempting a computer repair.
Data Backup and Computer Repair in Woodbridge, VA
There are two main types of data backups that your business can get when you have data loss computer issues. You can either backup the data in an external hard disk or USB drive or the cloud (internet). Quality data backup services and are also available if have a small or medium-sized business.
Importance of Chesapeake Computer Services Data Backup
Whether you are backing up your data after you have had computer repair services or just backing it up for preventive measures, there are reasons why you should do it. Here is why.
For Recovery And Computer Repair Services
The main reason for backing up data is to prevent data loss. Whether you need to secure your phone, laptop, or other company computer hardware or software, you need a professional with expertise. Go for the right local businesses that provide high-quality support and repair services and settle for the one with the reputation of doing a great job.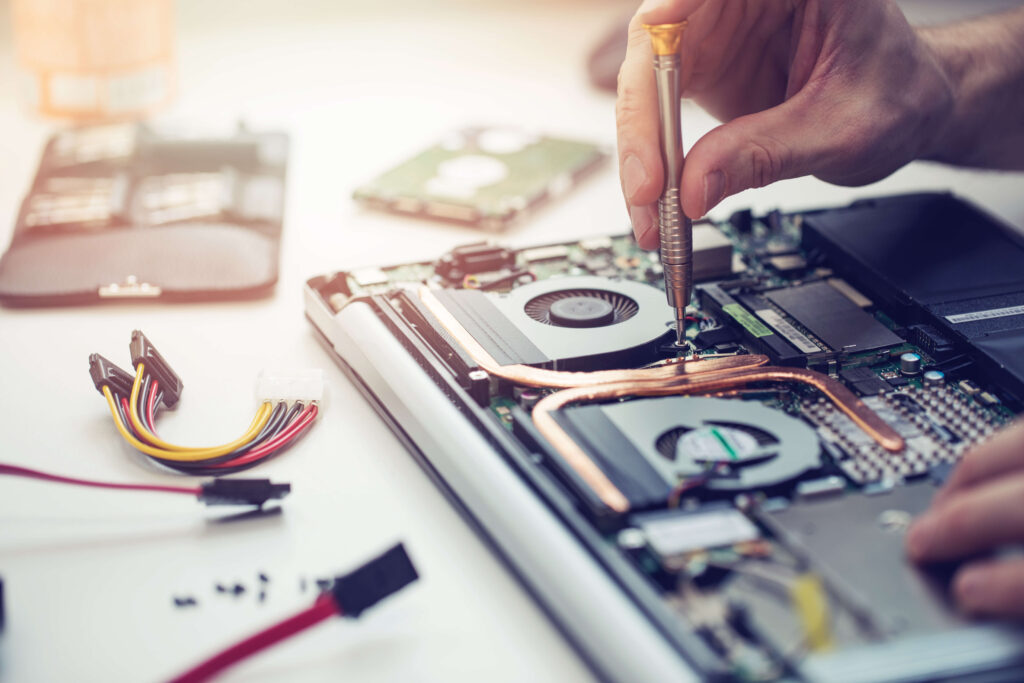 In the unfortunate event of data loss, your computer repair expert can simply restore your system to an earlier state, a time before the disaster hit. It is a simple and automatic process that can save your data whether the disaster is huge or small.
Gives you a Competitive Edge
While backing up your system regularly safeguards important data, it also gives your business a competitive advantage. In the wake of a major technology malfunction, the first business to get up and running will take up all the business.
If you do not have backup systems when disaster strikes, it could very well mean the end of your business because data is one of the most important aspects of any business. Businesses that can get up on their feet soon after an unprecedented disastrous eventuality not only get their business back but also get new clients from businesses that had no backup systems.
In every business, doing the job right the first time is elemental. You can recover certain data if you suffer a minor failure or disaster but the data might not be helpful. In most cases, your computer repair expert will have a lot of work recovering your data. It could involve recreating databases, spreadsheets, documents, or even setting up the whole system anew.
On the other hand, if you suffer major data loss, you could end up redoing the whole system which may take a lot of time and loss of clients. This can be detrimental to your business and in more severe cases, lead to closing it down.
Archives, Audits, and Taxes
Businesses are professionally required to keep business records for extended periods of time. This can be due to statutory regulations or tax purposes. For some reason, you might need to refer to past records to deal with a present issue. You might assume that just because you have years' worth of data you are safe. Having one copy of all your data is not a good business practice.
If you do not have a good backup plan in place, it means nothing in the face of data loss. For this reason, enlisting the services of offsite backup services is a great business idea. If something goes wrong locally, you can rest assured that all your important data is recoverable. Regulatory commissions and the IRS do not care that your business suffered a major or minor data loss.
Retained Client Relationship
Backing up your data is also important for maintaining your relationship with clients. If you have a backed-up copy of your information, you are undoubtedly well-positioned to outmatch others when data loss occurs. By having these protocols in place, you will not only safeguard your customers' data but also inspire confidence in your services and brand.
When you do regular data backing, the result is peace of mind. This results in more productivity in you and your team getting your business to focus more on more core business issues. Having solid data backup solutions will put your mind at ease in case something goes wrong. Knowing that your data is safe makes you get a better focus on growing your business rather than worrying about the eventuality of data loss.
Backup services are essential to any business owner. If you find your business requires a great service for computer repairs after data loss. Look no further. Our computer repair solutions cover specific services such as:
Hard drive upgrades/replacements/additions

Power supply replacement/upgrade

RAM upgrades

File system repairs

Master File Table (MFT) defragmentation

Page file defragmentation

Registry cleaning/repair

Installation of sophisticated security software network infrastructures

Operating system setup services
For business owners running businesses in the Woodbridge area, you can get a professionally designed solution for your specific business needs by visiting Chesapeake Data Solutions at Woodbridge, VA.
Other Services at Woodbridge, VA and Surrounding Areas
Do you need professionals to repair and fix a stubborn computer or hard drive? Do you need sophisticated secure network infrastructures, basic computer support, or software service? At Chesapeake Data Solutions we provide comprehensive business information technology solutions to local businesses.
Creating a professionally designed website that has a pro-growth agenda
• Optimizing your business for the best search results
Do you run a large or small business in Woodbridge, Falls Church, or any other region in Virginia? Do you need gadget geeks with a strong passion for IT software and hardware support? Are you looking for streamlined technology to suit your business? If so, call Chesapeake Data Solutions or visit our offices in Woodbridge, Virginia.